Collective Worship at St. Joseph's
Collective Worship Skills Progression
SJH Collective Worship Policy 2022-2024
We believe that Christian worship in a Catholic school names and celebrates God's presence in our lives. It is concerned with giving glory, honour, praise and thanks to God. It is our loving response, in word and action, to God's invitation to enter into relationship, made possible through the work of Jesus Christ and the witness of the Holy Spirit. At St Joseph's we always strive to provide quality experiences of prayer and liturgy that support pupils' spiritual development.
We acknowledge the legal requirement that there must be a daily act of worship for all pupils. This can take place at any time during the school day and can be either a single act of worship for all pupils, or separate acts of worship in school groups.)
In addition to Collective Worship, each class attends our local church to celebrate Mass with our parishioners. We are very fortunate to have Fr. Stephen who visits school regularly and helps our children to experience what it means to belong to, or take part in the worshipping community of the Church.
Other opportunities for prayer take place within the classroom at the start of each day, before and after lunch and again at the end of each day.
St. Joseph's staff gather together every Monday morning, before the school day for staff prayer and reflection. This is an opportunity for colleagues to reflect on various liturgical themes and Gospel messages.
Please see our Collective Worship Policy for further details and St Joseph's Collective Worship Ritual Guidance specific to our school.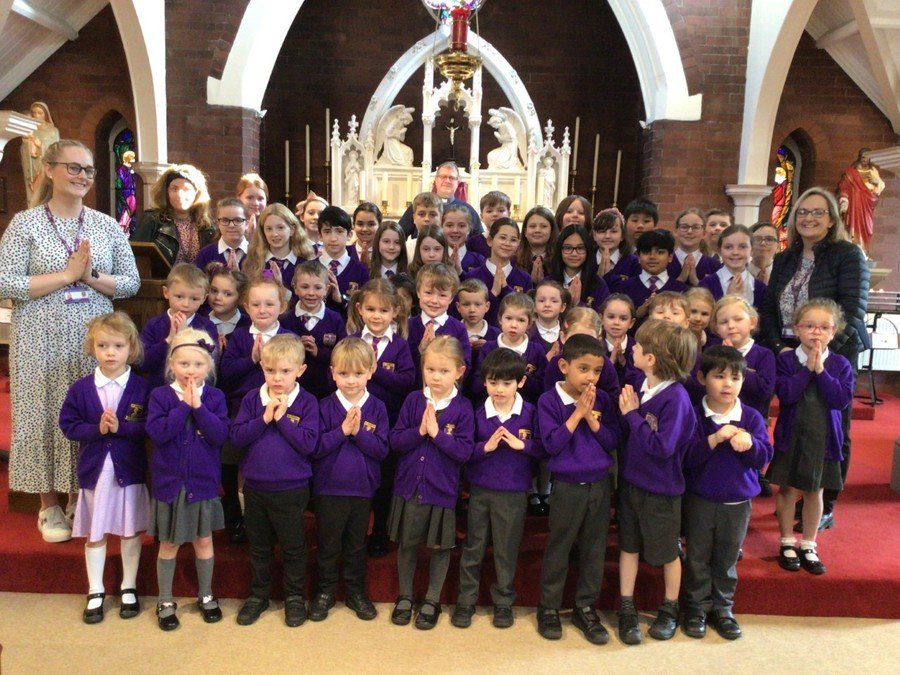 Pray For Ukraine - March 2022
On Tuesday 8th March, Y6 took part in a Collective Worship to pray for Ukraine.
Child-Led Collective Worship
Child-Led Collective Worship
Ash Wednesday 2022
On Ash Wednesday Y6 attended Mass in church with all other classes participating in school. Father Stephen then distributed the ashes to the children in school.
The Mass included the presentation of a new set of Stations of the Cross from school to church, by our Head Boy George and Head Girl Emily. The Stations of the Cross were bought from the Mini Vinnies fundraising last year. The Stations are dedicated to the first 50 years of the school and in loving memory or Mr Frank Naughton, the first headteacher at St Joseph's.
We are very grateful to Father Stephen for blessing the Stations. This is particularly poignant as the Stations were created by an artist in the Ukraine and only arrived in school on Monday. In school we continue to pray for the pe
ople of Ukraine.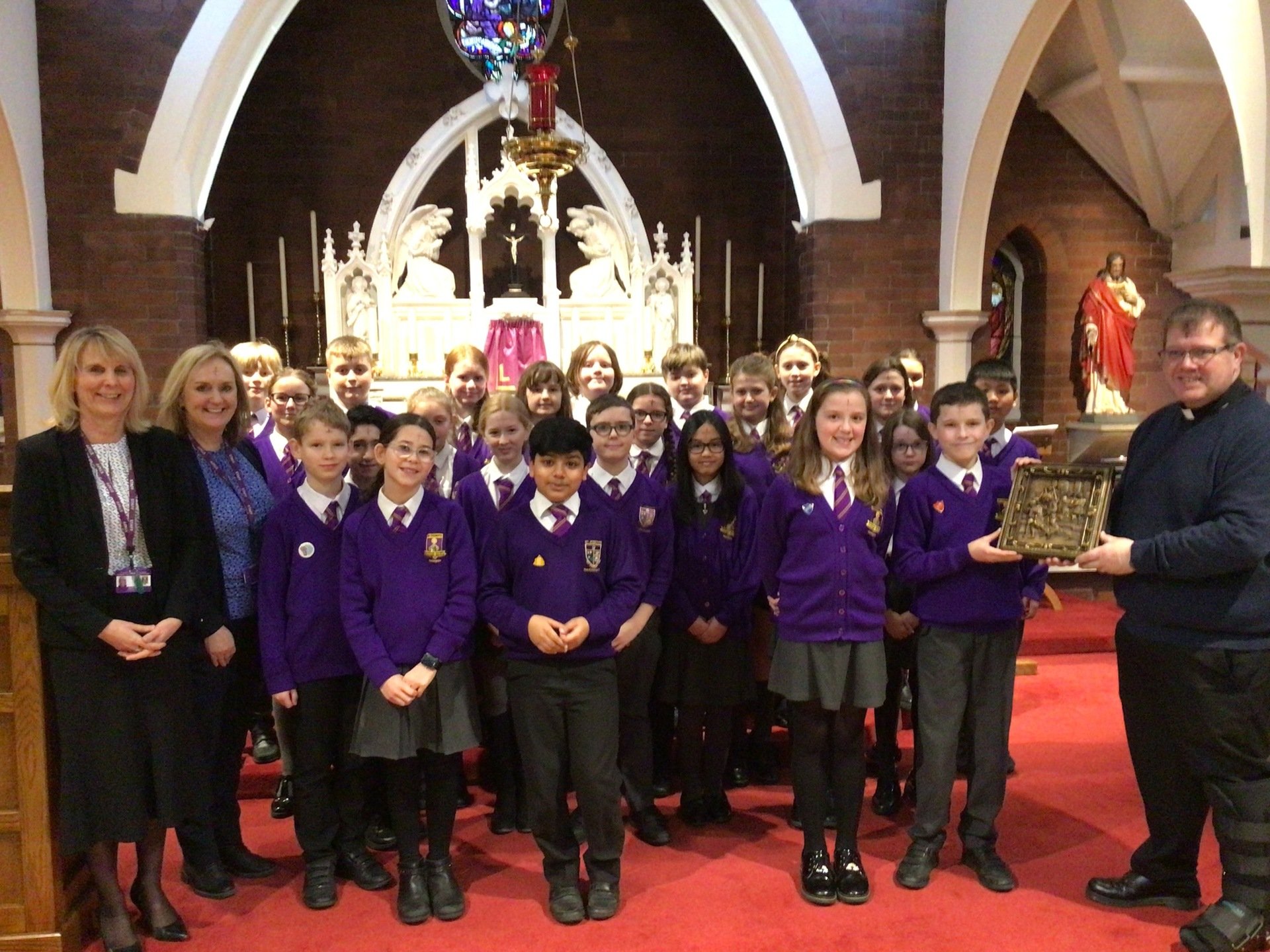 Year 1 Mass - February 2022
The children loved attending mass this week. Thank you Father Stephen!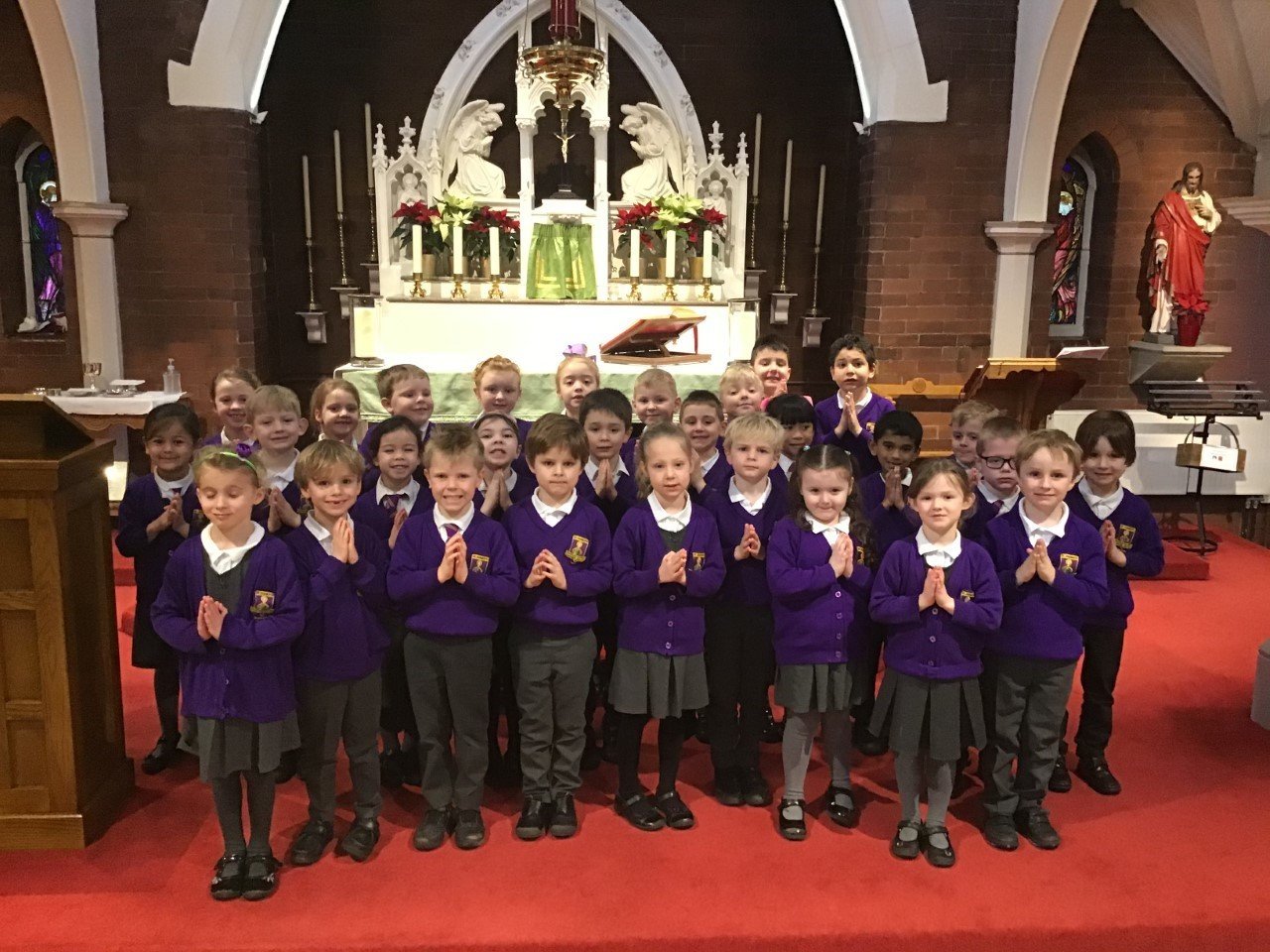 Advent Performances - December 2021
'The Angel Who Nearly Missed It All' by KS1 'Cinderella & Rockerfella' by Y5 'The Nativity' by Reception
Stonefall Cemetery/Commonwealth War Grave - November 2021
On Monday 15th November, Y6 visited Stonefall Cemetery/Commonwealth War Grave as part of their WW2 topic. They found out about the Commonwealth forces who died in the Second World war and held a Remembrance collective worship.
Child-Led Collective Worship
All Souls' Day Collective Worship
We had a very special collective worship where we spent time giving thanks for those whom we love that have been taken up to heaven.
Year 6 lead the Rosary for KS2 - October 2021
On Wednesday 4th October, we had a Rosary day. We worked with our prayer buddies to create artwork connected to the Joyful mysteries. Then we finished outside with the living rosary and procession around school. It was a wonderful, reflective day.
Child led Collective Worship across school - October 2021
Start of Year Mass 2021 - we celebrated Mass in church with Y5 and Y6 and all of our other classes participating online via our parish You Tube channel.
Advent 2019
Year 5 led the second Advent liturgy focused on peace. We learned from John the Baptist that to prepare our hearts to meet Jesus, we must repent and build our relationship with God. Our mission was to work together to build peace in our classrooms, school, home and community.
2018-2019 Collective Worship & Mass
21st December 2018
Year 4 gave a superb Advent Liturgy in today in front of the whole school and parents. Happy Christmas from pupils and staff at St Joseph's.
Whole School at Advent Liturgy 21st December 2018


9th October 2018
Year 3 attended Mass this morning with our parishioners. year three will complete their First Reconciliation this school year so going to Mass is particularly relevant for them at this stage in their faith journey.
| | |
| --- | --- |
| | Each Tuesday one of our classes attends Mass at church. This week is was the turn of Y5. |
2017-2018 Collective Worship
Holy Week Liturgy
This morning we held a Holy Week Liturgy to honour and celebrate the most holiest week of the church year. Our key stage two children led us in prayer and readings and our key stage one children shared their beautiful art work reflecting each day of Holy Week. We were delighted to have year 8 students, Mr Beetles, Mrs Gaertner and Mrs Crichton from St John Fisher Catholic High School join us this year, as a choir to sing and play instruments for us. The liturgy was extremely reflective and moving and our children were absolutely fantastic in their reading and singing. What a wonderful way to celebrate Holy Week in school!
Advent Liturgy Friday 22nd December
This morning Y6 led us in a wonderful liturgy to celebrate our last stage of our journey through the season of Advent. The children read beautifully and delivered a poignant message of the true meaning of Christmas, ending with a wonderful 'Mission' for everyone to take time each day to think of and say thank you to God, for our loved ones.
Each class chose a Christmas Carol to sing to match the readings in the liturgy. The singing was beautiful and heartfelt. Thank you to the parents who attended. We were delighted you shared this joyous advent liturgy with us.
Advent Week Three
Well done to Y4 for leading the whole school in our third week of Advent Collective Worship, focusing on Gaudete Sunday and sharing the joy as we await the coming of Jesus. Our mission this week is, 'To share the joy among one another in school and at home.'
Year Three led us in a beautiful collective worship for the second week of Advent. Their focus was 'Peace' and how we can share and bring peace to one another during our journey of Advent.
Our Mission this week is to create peace by being sorry for what we have done wrong and forgiving others for their mistakes.
Advent Week One
Year Five planned and led our first whole school Advent Collective Worship, with a focus on 'Hope' reflecting the meaning of the first advent candle. Our Mission for this first week of advent is to keep our eyes open for people who need our help and give them hope.