Join Our School - Reception Intake 2024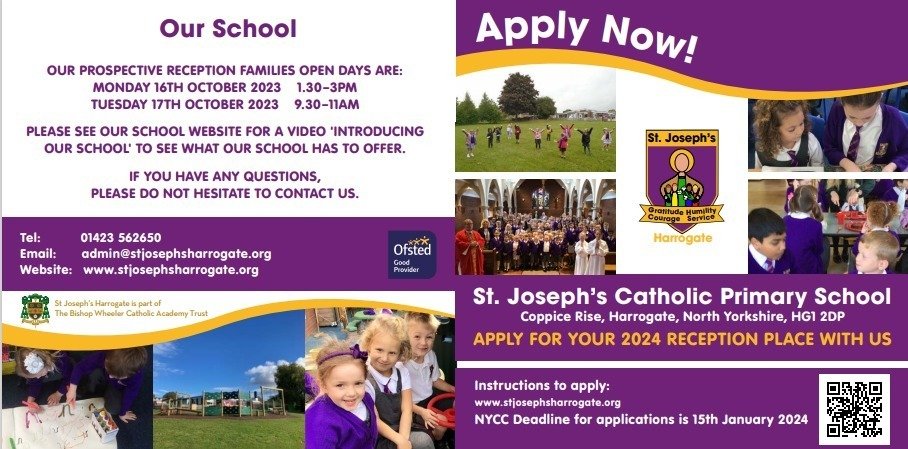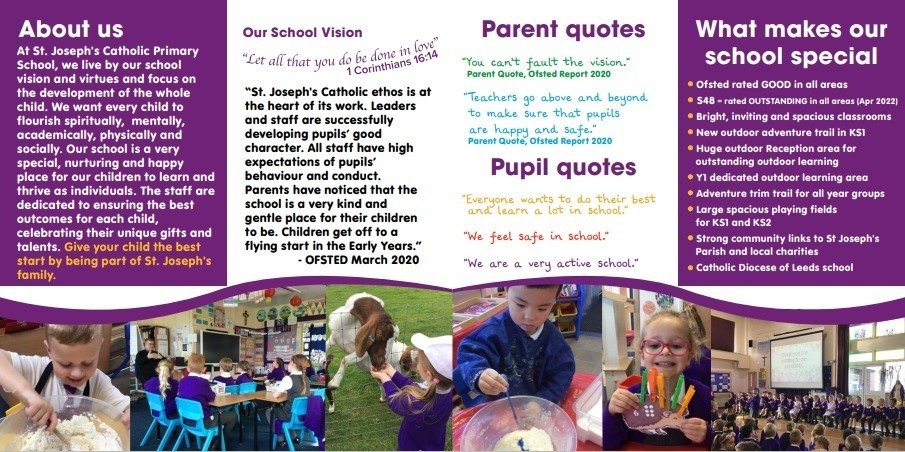 To view our welcome leaflet click here
Visit out school
We welcome all families to come and view our school, please phone us to make an appointment to look around. Children do not have to be baptised Catholic to attend St Joseph's.
To join the school: all applications are made through North Yorkshire County Council by completing a common application form (CAF) which can be completed online. For more information and access to the online application process please go to:
We also require you to complete our Supplementary Information form (SIF) and hand this to the school office. This form can be downloaded from: https://www.stjosephsharrogate.org/admissions where you will also find our Admissions Policy for 2024–2025.
If you have any questions about applying please do not hesitate to contact us.
Website

Please explore the website to get a flavour of what St. Joseph's has to offer. Please see individual class pages for further information of life at St. Joseph's for all of our children.
This New Parents Document contains all the information you need for your child's start at St. Joseph's.
Joining in year
You may you wish for your child(ren) to join the school during the school year or outside the normal Reception application timetable. Please call the school to check if we have any spaces in the years that you need.
An in-year application can be made at any time of the year as there is no closing date. Your application will be processed no more than half a term (six weeks) in advance of when a place is required. A school place will normally be allocated from the start of the next half term.
To apply you need to complete the online in-year common application form for NYCC, see: https://www.northyorks.gov.uk/changing-schools-and-year-applications
and the SIF available here https://www.stjosephsharrogate.org/admissions which is sent to the school.
Our Admissions Policy for 2023-2024 can be found at: https://www.stjosephsharrogate.org/admissions
Appeals
If you wish to appeal an admission decision for a place at St. Joseph's please contact North Yorkshire County Council in the first instance.