Catholic Life of the School
Our religion influences our whole way of life and consequently this permeates every part of school life. Parents are the first educators of their child in the ways of the Faith and the school welcomes the support and co-operation of parents in our teaching of the Catholic Faith.
We follow 'The Way, the truth and the life' religious education programme. Our religious teaching is planned into topics on a four-year cycle. Prayers are said at the beginning and end of the school day and at lunch time. Assemblies and other occasions for praising God in word and song are an important part of our school life and we invite parents, grandparents and friends to join us.
We have strong links with our Parish Church, St. Joseph's, and Father Stephen visits the children in school regularly, as well as to celebrate Mass and share special assemblies at which everyone is welcome. On Holy Days we join the parishioners at Mass in the Parish church or we have mass in school.
Please keep us in your prayers as we support your children in their Religious Education. Any questions you may have please ask your child's class teacher or speak to Mrs Sowden (Catholic Life of the School) or Mrs Delahay our RE leader.
Year 6 visit the Friendship Group March 2022
On Wednesday 30th March Year 6 visited the Friendship Group at St Joseph's Church with cakes and sandwiches they made in class.
United For Ukraine Liturgy And Walk March 2022
On Monday 21st March we had a non-uniform day. Children and staff were invited to wear blue and yellow, the Ukrainian national colours. We raised £553 for UNICEF's Appeal to protect the children in Ukraine.
We began the day with Y3 and Y5 prayer buddies leading a whole school liturgy. We then left the school and stopped outside our church to pray for the people of Ukraine. We then walked along Skipton Road to Bilton Lane and stopped outside St John's church for prayers and then returned to school and gathered for a final prayer.
The children completed other activities during the day and made a hall display to help keep the people of Ukraine in our thoughts and prayers and as a symbol of unity.
The Good Shepherd Sponsored Walk March 2022
On Friday 18th March the school raised £567.80 by doing a sponsored walk to Killinghall Moor Country Park. We had some lovely weather and the children thoroughly enjoyed themselves.
Click to view photos.
St Joseph's Feast Day Mass March 2022
On Friday 18th March Father Stephen and Y6 led the St. Joseph's Feast Day Mass.
World Book Day March 2022
On Thursday 3rd March we celebrated World Book Day with the children dressing up as their favourite book character and raised £310 for our Lenten Project, Mission Together.
Ash Wednesday March 2022
Ash Wednesday was a very special day with Father Stephen leading Mass in church with Y6 and parishioners attending. All other classes participated online. After Mass Father Stephen distributed the ashes to everyone in school.
The Mass included the presentation of the new Stations of the Cross from school to church, led by our Head Boy George and Head Girl Emily. The Stations of the Cross were bought from the Mini Vinnies fundraising last summer. They are dedicated to the first 50 years of the school and in loving memory of Mr Frank Naughton, the first headteacher at St Joseph's.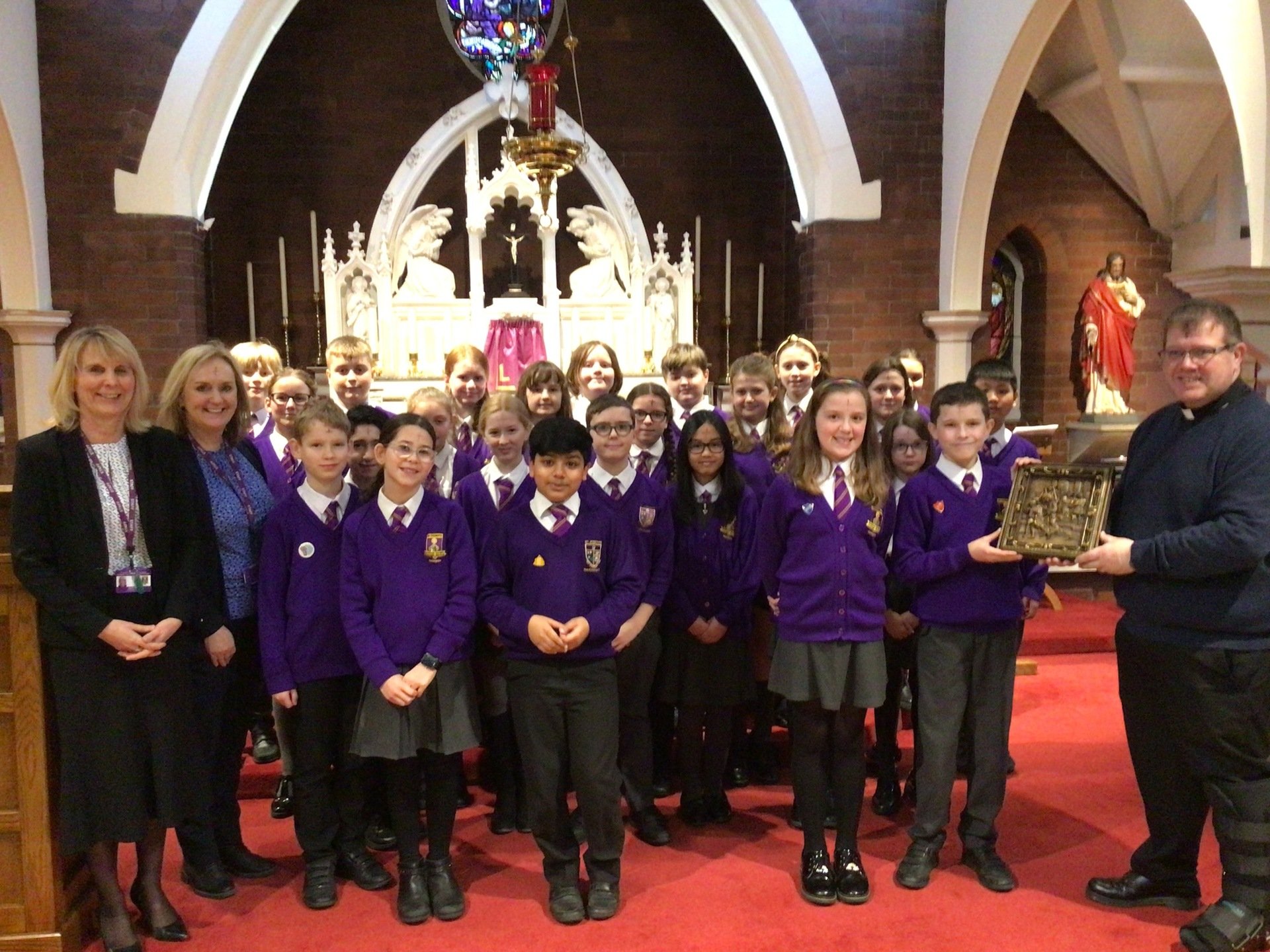 Christmas Jumper Day
In December 2021 all the children wore a Christmas Jumper to school and raised a wonderful £306.50 for our CAFOD Climate Change Charity.
Stonefall Cemetery/Commonwealth War Grave - November 2021
On Monday 15th November, Y6 visited Stonefall Cemetery/Commonwealth War Grave as part of their WW2 topic. They found out about the Commonwealth forces who died in the Second World war and held a Remembrance collective worship.
CAFOD and COP26 - November 2021
Over this half term we have been studying the impact of Climate Change for us and our global neighbours. We were lucky to have a visit from Maggie who taught us about the crucial work CAFOD are doing.
Click the link above to view photos.
Year 6 lead the Rosary for KS2 - October 2021
On Wednesday 4th October, we had a Rosary day. We worked with our prayer buddies to create artwork connected to the Joyful mysteries. Then we finished outside with the living rosary and procession around school. It was a wonderful, reflective day.
Beginning Of School Mass - September 2021
Year 6 attended and led Mass with Father Stephen.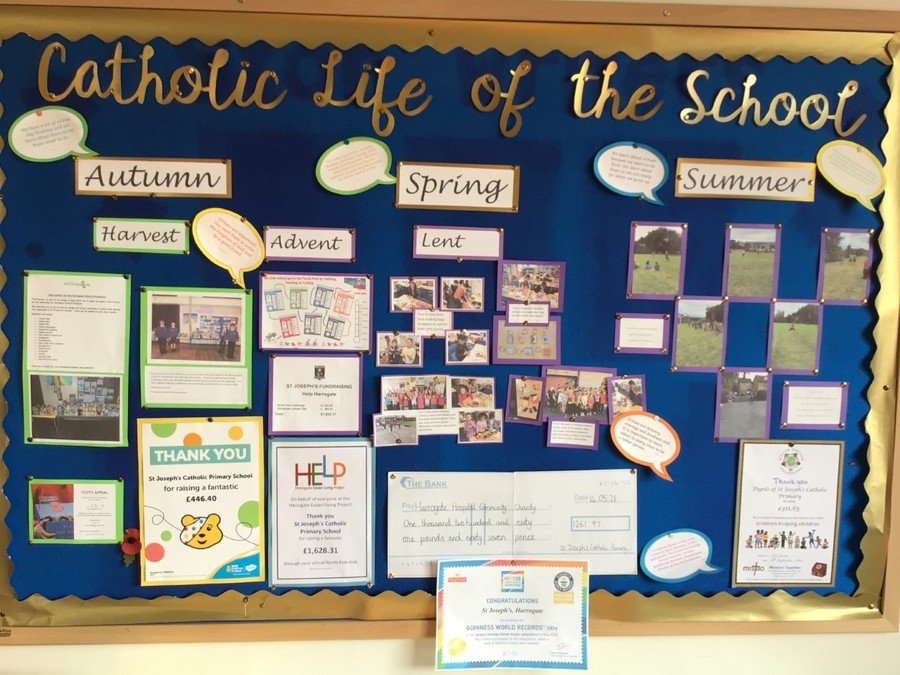 Faith in Action
Joy O'Brien came into school to launch the Faith in Action awards. We had a very prayerful, reflective day contemplating what faith means to us and how we put our faith into action. We wrote prayers and chose objects that showed what faith means to us. At the end of the morning, we gathered together to share our prayers and reflections.
Little Sisters of the Poor visit school - Lenten fundraising
We were honoured to have Sister Margaret and Sister Christina from the Little Sisters of the Poor in Headingley visit school to launch our Lenten fundraising for them. They told the children all about their amazing work and the children also had the opportunity to ask lots of questions. The Sisters visited every classroom and had a great time talking to the children about their learning.
Year of the Word
To celebrate the Year of the Word, we have been studying the Journey of Matthew through his Gospel. Each class has taken parts of the Gospel to learn about and create class pieces of art work for or hall display for everyone to enjoy!
St. Joseph's Choir
Visit to Emmaus House and Southlands Care Home
On the 9th December 2019 St. Joseph's choir visited Emmaus House to sing Christmas carols to the residents. We then followed this with a similar visit on the 12th December Southlands Care Home. We sang a number of traditional hymns, including Once in Royal, and Angels from the Realms, as well as three anthems that we have been learning this term: Torches (Joubert), Coventry Carol (Original tune from 1591) and a little known version of Away in a Manger (Jacques). We finished off with some fun tunes, including Rudoph and We Wish You a Merry Christmas! Everyone had lots of fun, and we all really enjoyed spending some time meeting the residents after our performance.
A huge thank you to the choir for all their hard work and commitment, and also to Mrs Crowther, for rehearsing with us and playing the piano for us during our performances.
The choir will be singing at the carol service at St. Joseph's church on 22nd December.
Education Sunday is 8th September 2019
It is a day where Catholics are encouraged to reflect on the Church's enormous contribution in this country and pray for all those involved in Catholic education. The Catholic Education Service (CES) is the agency of the Catholic Bishops of England and Wales charged with safeguarding and promoting our remarkable network of successful Catholic schools. The CES represents Catholic education to the Government, Ofsted and other national bodies to ensure Catholic schools are empowered to flourish. Education Sunday is a time to be grateful for the hard work of all those past and present who work tirelessly to make Catholic schools places of transformation and hope for all our children . Please read the attached letter from Bishop Marcus - Education Sunday 2019
Y6 Confirmation 19th February 2019
Our Y6 pupils made their Confirmation at St Joseph's church on Tuesday 19th February 2019. We then celebrated this in school with a parent assembly on Friday 22nd February. The children shared their beautiful art work depicting receiving the Holy Spirit and what this means to them. Congratulations to all of our Y6 pupils and thank you to Father Neil, the parish catechists and parents for supporting our children through this stage of the faith journey.
Tuesday 6th November 2018
Reception class and their Year Six buddies attended Mass with the parishioners and were wonderful ambassadors of our school. The Reception children have already learnt prayers and some responses. All of the children were extremely reverent.
On Tuesday 18th September 2018, we celebrated the start of a new school year with Mass in church. This was beautifully planned and led by our wonderful Y6 children and Father Neil. This was a very special occasion to come together in unity a the start of another great school year ahead for us all.
2017-2018 Catholic Life
The Little Sisters of the Poor in Headingley visited school to tell us all about the amazing work they do for the elderly. The children asked lots of questions and we were delighted to tell the Sisters all about the fundraising events we are undertaking for them as our Lenten charity.
On Monday 12th March, Years 5 and 6 went across to Church to go through and to remind ourselves of the Stations of the Cross with our class governor Mrs Clemerson. It was a great experience and we learned a lot from it! (by Sanuthi and George)
On Monday 5th February we were delighted to welcome two of our parish St Vincent de Paul leaders to assembly to receive the £1077.01 raised for St Joseph's SVP as our advent charity. Teresa and Linda explained that all of the money raised will go towards helping refugees in Leeds; repair home of families in desperate need in India; and also to sponsor children in India so that they can attend school and receive a primary education.Well done to the Mini Vinnies for organizing the fundraising and to all of our families for your kind donations.
All Saints Liturgy Wednesday 1st November
Y3 led us in a beautiful liturgy for All Saints day and each class shared with us what they have learnt about their new class Saint.
One million children praying the rosary